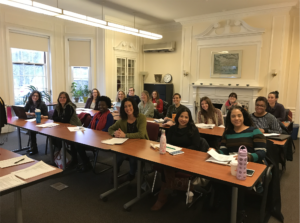 MTCNE nurtures a vibrant Montessori community. Whether you are interested in finding out more about the Montessori training programs offered through MTCNE or in establishing connections with our global Montessori community through local and virtual events, we have something scheduled for you.
The second Tuesday of every month, MTCNE hosts an  Online Information Session.  During these sessions you will learn more about the Montessori diploma programs and other trainings, as well as learn about the Montessori degree programs offered in partnership at the University of Hartford.
MTCNE also hosts a variety of professional development opportunities designed specifically for our alumni and friends.  Each year MTCNE offers a variety of workshops and social gatherings in Hartford, CT for the regional Montessori community.