Equity, excellence, and success for all through high-quality educational services that promote the pedagogical principles of Dr. Maria Montessori as an Association Montessori Internationale (AMI) affiliate.
Diversity, Equity, and Inclusion Statement

CREC is an intentionally diverse social justice organization whose members work to acknowledge, respect, and empathize with people of all different identifiers, such as race, socioeconomic status, gender identity and expression, education, age, ability, ethnicity, culture, sexual orientation, language, nationality, and religion. We commit to affirm and honor the lived experiences of others, to willingly challenge inherited beliefs and ideologies, and consequently learn, grow, and serve.
The Montessori Training Center Northeast (MTCNE) is managed and operated by the Capitol Region Education Council (CREC) in Hartford, CT.  Founded in 2003, MTCNE serves as the only Association Montessori Internationale (AMI) teacher training center in the Northeast United States. In addition to teacher training we serve as a central location offering support to our diverse Alumni community and Montessori schools both nationally and internationally.
Our Programs
The Training Center offers AMI diploma and certificate programs at the 0-3, 3-6, 6-12, and 12-18 levels.  In addition, Montessori for Dementia, Disability & Ageing training and the Montessori Sports Fundamentals course are available. Adult learners who attend an MTCNE delivered training course should expect comprehensive training reflective of authentic Montessori pedagogy.
Our Community
Rooted in Hartford, CT, the teachers we train and the communities we serve are spread throughout the globe.  We take pride in building up our community! The Training Center offers a variety of professional development opportunities delivered both on ground and in virtual spaces. All are encouraged to visit with us during an upcoming event, make use of the resources we have archived online and check out the impact of the training through our Alumni updates.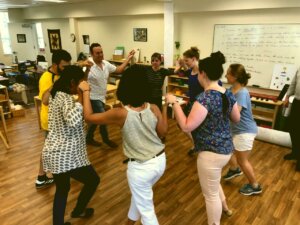 Our Scholarships
We manage two distinct scholarship funds to benefit future students seeking AMI training through either a diploma program or as part of an undergraduate degree pathway at the University of Hartford. If you or your organization would like to support the training of Montessori teachers, donate now.