AMI Diploma Course Information
The Association Montessori Internationale (AMI) Elementary program focuses on the Montessori Method of Education for children from 6-12 years of age. The program includes theory lectures and hands-on practice with Montessori's materials.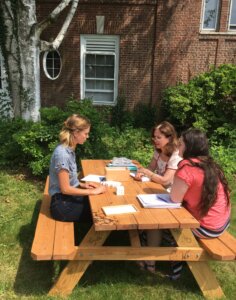 This unique pedagogy places children at the center of the learning process, guiding them to their full potential. The program includes extensive study in Montessori's theory of child development, and in the practical aspects of applying Montessori education both in classrooms and in school communities.
The program is composed of lectures and detailed presentations of the Montessori materials.  With each presentation, there are discussions of how Montessori theory is applied, what are the developmentally appropriate age ranges, and the purposes of the presentations. Students learn the technique of the presentation, along with all the related information that forms the basis for their individual practice. Time is scheduled during class hours for students to practice with the Montessori materials under staff supervision in order to refine their technique of presentation.
Each student creates original reference albums in the areas of: Theory, Language, Mathematics, Geometry, Geography, History, Biology, Music, and Art.
Theory Papers
During the course each student is required to write Theory Papers related to Montessori Theory and Practice.
Material Making
Students are required to make several hand-made materials that are not readily available from manufacturers. This gives students the chance to apply the principles they are studying for the preparation of the Montessori environment.
Observation and Practice Teaching
Observation and Practice Teaching allow students to apply their coursework in AMI Montessori host classrooms. During observation, students spend a minimum of 90 hours observing the children's interactions with the materials and each other. During practice teaching, students spend a minimum of 120 hours in their host classroom, presenting lessons to children under the supervision of an AMI Elementary-trained host teacher. For students enrolled in a summer format course, observation and practice teaching are organized by the student and completed during the academic years between summers.
Examinations
Comprehensive written and oral examinations are given at the end of the course to verify that each student has met the standards of the Association Montessori Internationale.
Application fee waived for KCPS-sponsored applicants – please indicate status on application.
Elementary (6-12) Diploma Course
Blended Academic Year Format
September 2022 – June 2023*
Satellite Location: Kansas City, MO
Director of Training – Carol Hicks
Associate Director of Training – Lisbeth Harrison
September 12, 2022 through June 30, 2023
Unique course pattern of live delivery, blended online work and practical classroom application
COURSE SCHEDULE
Live delivery, Monday – Friday, 8:30 AM to 4:30 PM, with one hour for lunch
Online, synchronous (~6 hours) and asynchronous experiences
Classroom observations, 3.5 weeks, September through November
Practice Teaching, 2 weeks in March and 2 weeks in April
*pending AMI approval
Elementary (6-12) Diploma Course
Three Summer Format
2022 – 2024
Director of Training – Gerard Leonard
Associate Director of Training – Lisbeth Harrison

June 2022 through August 2024
Summer 1: June 20 – August 5, 2022
Summer 2: June 19 – Aug 11, 2023
Summer 3: June 17 – Aug 9, 2024*
Classes run Monday – Friday, 8:30-12:00 and 13:00-17:00 with an hour for lunch in between.
*Dates are subject to change
Elementary (6-12) Diploma Course
Academic Two-Year Part-Time Format
2021 – 2023
Director of Training – Gerry Leonard
Foundation Course Trainer – Laurie Campiformio with Gretchen Hall

September 2021 through June 2023
Foundation Prep Course:
September 7, 2021 – November 6, 2021
Year 1: November 9, 2021 to May 21, 2022
Year 2: September 6, 2022 to June 10, 2023
Daily Schedule
Class runs from 4:30 pm to 8:30 pm on Tuesdays and Thursdays.  Saturday classes are 9:00 am to 5:00 pm.

MTCNE holds accredited status for its Elementary I-II (EL I-II) Montessori teacher education certification course level from the Montessori Accreditation Council for Teacher Education (MACTE).