Hello, my name is Erika Chait and I am an alumna of the Assistant's Training Course from which I earned my Elementary Assistants Course Certificate of Completion in December 2015.  I am currently in the 3 Summer Elementary Diploma Course at MTCNE.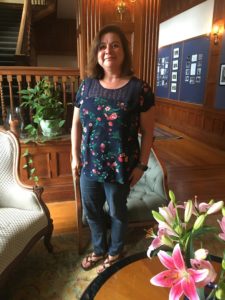 My husband and I came upon Montessori when we were looking for childcare for our 16 month old son.  After visiting many places we found the Montessori School of the Berkshires.  Immediately we fell in love with the environment and felt this was the right place for him after we observed the toddler community.  The children were learning to gain their independence as they cared for their environment and themselves.  Grace and courtesy was evident.  The development of self was clearly a priority.  We appreciated that the emphasis was placed on the child, i.e. their needs, and that learning was each child's individual journey.
I have always wanted to work with children.  After I had my second child, an opportunity arose at the Montessori School of the Berkshires and I began assisting at the school as a Substitute Teacher.  A year later an Assistants position opened up in the Elementary community and I was fortunate enough to be able to accept the position.  Within a year I took the Assistant Training Course with Gretchen Hall at MTCNE and it was eye opening!  The Assistants Training was a wonderful experience!  It helped to clarify the role of the Assistant in the classroom for me.  The Assistant and the Lead Guide work closely as a team.  It is like a dance where each compliments the other.  We are in the child's environment and there to serve and guide them.
As I mentioned before, I am currently in an Elementary Diploma Course at MTCNE so that I will be prepared to lead my own class in the future.  I am really pleased with my journey and feel the Assistant Training was an important part of my growth.  When I am not in training, I spend time with my husband and two children.