Elementary (6-12) Diploma Course
Academic Year Blended Format September 2022 – June 2023*
Satellite Location: Kansas City, MO
The program is a 10-month "Academic Year Blended Format" course from September 12, 2022 through June 30, 2023 (*pending AMI approval), offering a unique course pattern of live delivery, blended online work and practical classroom application
Live delivery, Monday – Friday, 8:30 AM to 4:30 PM, with one hour for lunch
Online, synchronous (~6 hours) and asynchronous experiences
Classroom observations, 3.5 weeks, September through November
Practice Teaching, 2 weeks in March and 2 weeks in April
Kansas City Public School (KCPS) Sponsorships Available. 3-year post diploma committment.
The individual cost will be $15,100 tuition, $100 application fee (waived for KCPS sponsored candidates), and $1000 supplies/books/charts/etc. for the 10-month course. AMI membership is included in the tuition. To receive Montessori Accreditation Council for Teacher Education (MACTE) accreditation which is important for public school teachers, additional fees include $150 to MTCNE and $175 to MACTE.
ADDITIONAL INFORMATION & APPLY
View the recording of an online information session here.
​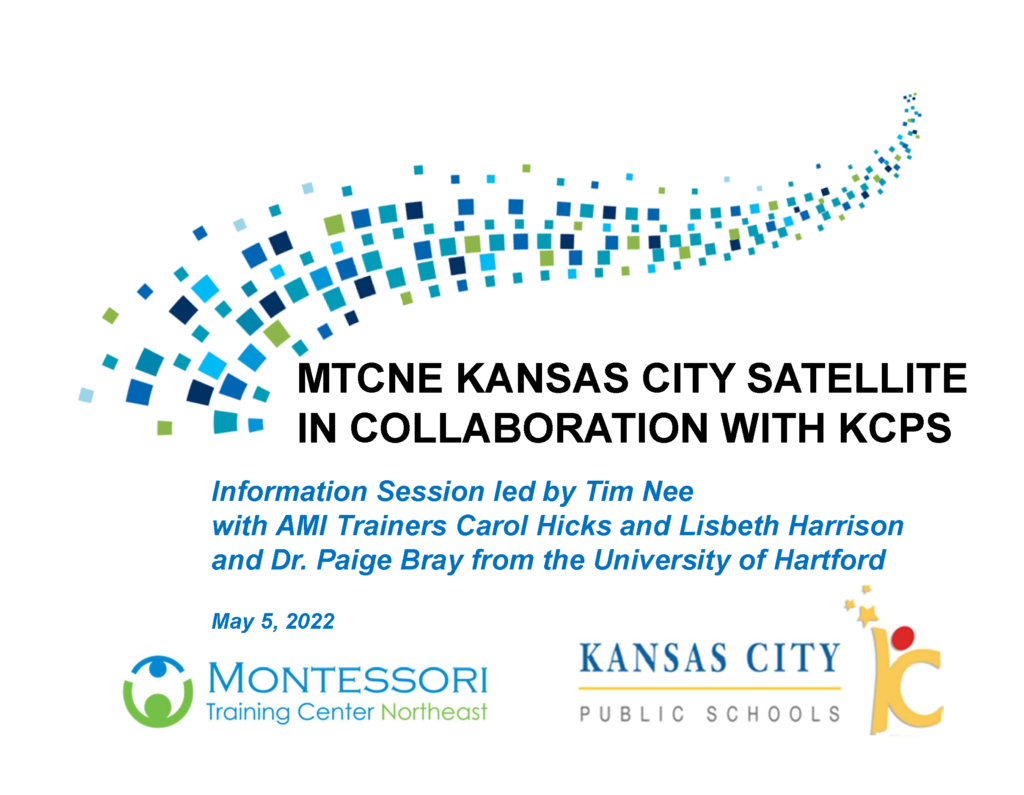 We recommend starting your application as soon as possible. We anticipate the course will fill up quickly.
QUESTIONS?
Reach out to the following people for questions about:
AMI Elementary Diploma Course: Tim Nee, Managing Director, MTCNE, 860-232-1743, tnee@crec.org.
Bachelor's and Master's Degree options: Dr. Paige M. Bray, Director, Montessori Studies at the University of Hartford, https://www.hartford.edu/montessori, bray@hartford.edu.
Kansas City Public School: Kalinda Bass-Barlow, Executive Principal, Kansas City Public Schools /Border Star & Harold Holliday Montessori School, kbass@kcpublicschools.org