Children's House (3-6) Diploma Course
2 Summer Blended Format 2022 – 2023
Satellite Location: Greater Cleveland Area, OH
The program is a 13-month "Two Summer Blended Format" course from July 2022 through August 2023.
Summer 1 (in-person): 6 weeks, July 5-August 12, 2022
3 Blocks between summers (remote): exact dates to be determined
Block 1: Oct-Nov 2022
Block 2: Jan-Feb 2023
Block 3: Apr-May 2023
Summer 2 (in-person): 6 weeks, dates to be determined
In-person classes will run 8:30 am to 4:30 pm Monday – Friday. During the remote blocks listed, students will meet on 4 Saturdays synchronously from 9:00 to 11:00 am, and have asynchronous work and assignments. Apart from lectures and supervised practice, students will be expected to complete 90 observation hours (approx. 3 weeks) and 120 practice teaching (approx. 4 weeks).
The individual cost will be $12,500 tuition, $100 application fee, and $500 supplies/books for the 13-month course. AMI membership is included in the tuition. To receive Montessori Accreditation Council for Teacher Education (MACTE) accreditation which is important for public school teachers, additional fees include $150 to MTCNE and $175 to MACTE.
ADDITIONAL INFORMATION & APPLY
View the recording of an online information session here.
​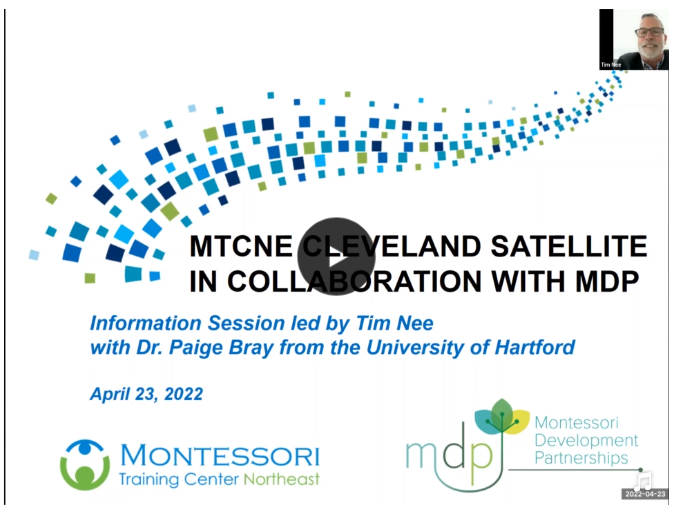 We recommend starting your application as soon as possible. We anticipate the course will fill up quickly.
For information about financial assistance, visit the Margaret Elizabeth Stephenson (MES) Fund. Once you have applied to and been accepted into the course, MDP will send you a link to apply to a financial assistance program specifically for this course.
SCHOLARSHIP DEADLINE
June 20, 2022: MES Financial Assistance deadline. In order to apply, you must have completed your application to MTCNE and been accepted into the program.
ACCOMMODATIONS
Accommodations for out-of-town participants have been arranged through MDP with the Cleveland Institute of Art and consist of single bedrooms in a 4-person suite with a shared living area, a kitchen, and 2 bathrooms. Laundry facilities are on site. A grocery store, restaurants, and cultural institutions are within walking distance. These newly built accommodations are 2.5 miles from the training location and near University Circle. Cost range is anticipated to be $1,800 per person.
Housing agreements will be established between the student and MDP no later than June 30, 2022. Students interested in securing a room for the training sessions should contact Martha Loughridge at mloughridge.mdp@gmail.com
Public Transportation Options
From: Cleveland Institute of Art, 11702 Euclid Ave., Cleveland, OH 44106
To: Stonebrook-White Montessori Campus, 975 East Blvd., Cleveland, OH 44108
Walk (2.2 miles / 45 minutes)
Google map route
Bus – Greater Cleveland RTA, http://www.riderta.com
Fares: http://www.riderta.com/fares
Suggested GCRTA Route for people staying at the Cleveland Institute of Art
Walk to E. 105th St. and Martin Luther King, Jr. Blvd. (1 mile / 20 minutes)
Take Bus #10 East 105 – Lakeshore to Parkgate Ave. (1.19 miles / 7 minutes)
Walk west on Parkgate Ave. to Stonebrook-White Montessori Campus (.6 miles / 11 minutes)
Dockless Scooter & Bikeshare, https://planning.clevelandohio.gov/dockless/index.php
Circle Link (FREE) for getting around in University Circle and Coventry Village
https://www.universitycircle.org/visit/circlelink-shuttle
Carpool with other course participants
MDP can help facilitate arranging carpools.
Loaner Bicycles
With some advance notification, MDP may be able to find bicycles for your use while in Cleveland.
QUESTIONS?
Reach out to the following people for questions about:
AMI Primary Diploma Course: Tim Nee, Managing Director, MTCNE, 860-232-1743, tnee@crec.org.
Bachelor's and Master's Degree options: Dr. Paige M. Bray, Director, Montessori Studies at the University of Hartford, https://www.hartford.edu/montessori, bray@hartford.edu.
Cleveland Metropolitan School District educators: Jacqueline Miller, Director of Montessori Programming and Operations, CMSD, Jacqueline.Miller@clevelandmetroschools.org
Financial Assistance: Martha Loughridge, Director of Philanthropy and Partnerships, MDP, mloughridge.mdp@gmail.com