Community Events & Professional Development Opportunities
---
Community Events & Workshops
Panel: Equity & Culturally Relevant Practice in a Montessori Classroom
A Center for Montessori Studies Event
October 23, 2019 | 4:30-6:30pm | FREE | Shaw Center, University of Hartford with Butterworth Hall Open House from 7:00 – 8:30pm
Panel participants will address culturally relevant Montessori practice. This panel brings together critical consciousness, the dynamic perspectives of school choice and geographically-specific school practice.  Join us at the Shaw Center, Hillyer Hall, University of Hartford Campus followed by an Open House at MTCNE/Butterworth.
Koren Clark, M.Ed., Wildflower Partner, Montessori By Any Means Necessary- Building Critical Consciousness 
Mira Debs, PhD, Director of Yale's Education Studies Program, Author of Diverse Families, Desirable Schools: Public Montessori in the Era of School Choice
Mamie Lawrence Gallagher, Co-founder, Director and Elementary guide, Mo'O School, Honolulu, Hawai'i, an AMI 'aina-based Montessori community for ages 3-12
Vivian Novo-MacDonald, Principal Montessori Magnet at Annie Fisher, an AMI Recognized Hartford Public School serving children ages 3-15 years
Ingrid Canady, Executive Director, State Education Resource Center, Dismantling Systemic Racism
send questions to medmtcne@hartford.edu
Keeper's of Alexandria Workshop
November 8, 9, 10, 2019 | $495 | Butterworth Hall | Presented by Kathleen Allen, Gerard Leonard, and special guest David Kahn
The Keepers of Alexandria is a program created by Dr. John A. Wyatt, classics professor at the University of Chicago and Beloit College, and was originally developed as after-school enrichment for at-risk students in grades 3 through 8. The current program consists of stories and lessons, which are presented through history, philosophy, and Latin, all based in the ancient city of Alexandria, Egypt.  The cost of the course is $495 and includes a binder full of all the lessons in The Art of Grammar, translation guides, and The Art of History (Dr. Wyatt's telling of the history of Alexandria). You will also receive a copy of The Great Tale of Alexandria book, a timeline of Alexandrian history, and a map of the ancient city.
The story, which the students translate from the Latin, follows an Ethiopian family living in the First Century A.D. Through one thousand years of Alexandrian history, and via the trade routes to that city, the students encounter the civilizations of Asia, Africa, Europe, and the nearby Middle Eastern and Mediterranean lands. Latin, which develops analytical skills, serves as the integral point of entry into understanding grammar and ancient culture, including mathematics, science, literature, and geography. The Keepers of Alexandria has been endorsed by The American Classical League as an exemplary Latin program.
Click the image to view the workshop brochure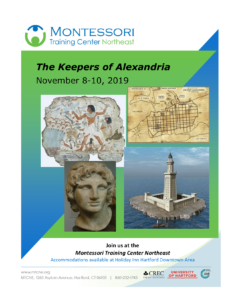 Urban Living in the Age of Climate Change: Sustainable Local Development in Hartford and Connecticut
A Center for Montessori Studies Event
March 26 & 27 2020 | FREE to Students | Select Locations in Greater Hartford | Sponsored by the Center for Montessori Studies @UHartford; Trinity and UConn, Hartford
Climate change is now being felt widely around the world, from the global to local scales.  Economies and societies are being challenged to respond to disruptive changes including rising sea levels, increasing extreme and unpredictable weather patterns, and events that will affect human health and well-being through air pollution, heatwaves, and risks to food security. These events raise issues of equity and social justice as the effects of climate change spread unevenly around the world.
A multi-generational event offering experiential site-visits, this symposium will focus on the implications of climate change for urban living in greater Hartford and urban areas across the state. Learning together, developing policies to confront sea level rise, possible tidal surges during major storms, changing patterns of precipitation and temperature, and health consequences of climate driven environmental change and the local actions of community gardens, outdoor learning, local food sources will all be part of the symposium. Have an idea for a site or presentation- let us know!
send questions to medmtcne@hartford.edu
Fostering a Culture of Writing in the Montessori Classroom
January 25, 2020 | 12:30-2:30pm | $25*| Butterworth Hall | Presented by Gretchen Hall and Gerard Leonard
Primary: Classifying the World through Language
This workshop will focus on the pedagogical foundations of offering language in classifications, both orally and through reading.   We will cover Enrichment of Vocabulary and Reading Classification in detail, providing a framework for enriching your primary environment with language card materials.
Elementary: Writing Across the Curriculum
We will look at writing across the entire curriculum.  Strategies and tips for encouraging reluctant writers will be shared.
Optional Social Hour to follow workshops.
Meeting the Needs of All Children
March 7, 2020 | 12:30-2:30pm | $25* | Butterworth Hall | Presented by Laurie Campiformio and Lisbeth Harrison
Montessori children come as individuals with their own strengths and weaknesses.  We will address what to do to when a child is "not choosing work", "not learning their letter sounds" and more!
In this workshop we will share:
Best practices for supporting all children in your classroom
A collaborative team approach to ensuring success for all children
Optional Social Hour to follow the workshop.
*This activity is complimentary to all teachers who have hosted MTCNE practice teachers and/or observers within the past year.  Registration, however, is still required.
Upcoming Information Sessions
Quality Montessori: The Essential Elements
presented by Tim Nee
October 22, 2019
5-6 pm ET
The webinar will identify each of the Essential Elements for Quality Montessori in the Public Sector.  The elements have been agreed upon by multiple organizations including both AMI and AMS.  These elements are an excellent way for schools to evaluate their own Montessori programs, create school improvement plans and/or provide professional development to their Montessori community.
Montessori and the Current Early Childhood Landscape
presented by Paige M. Bray, Ed.D., Associate Professor Early Childhood Education & Joshua A. Russell, Ph.D., Professor of Music Education
December 12, 2019
5-6 pm ET
This webinar will address Montessori theory and practice in the current early childhood education landscape with special attention to this child-centered practice and sustained work by children.
This webinar will allow you to:
Learn about current research that can support authentic Montessori
Explore authentic questions from educators, parents, advocates and community
Find out more about on-going resources available to you
Registration link forthcoming, please check back
Helping Children Feel at Home in the Natural World – the Montessori Approach
presented by Gerard Leonard
February 12, 2019
5-6 pm ET
We will discuss why Maria Montessori promoted children not only understanding how the natural world works, that is the laws of nature, but why she also promoted what she called "living in nature". We will take a look at recent writing regarding "nature deficit disorder".  And we will discuss practical ways to connect children to the natural world both in school and at home.
Registration link forthcoming, please check back