Masters of Education Degree (M.Ed.) Program at the University of Hartford
For over a decade we have partnered with the University of Hartford to offer the opportunity to combine Montessori training with higher education degrees. Students enrolled in MTCNE courses will also have the opportunity to complete a Masters of Education Degree (M Ed) with a concentration in Montessori from the University of Hartford. The Montessori training accounts for 15 to 18 of the required credits needed for this degree. Credits through the MTCNE Training are offered at a greatly reduced rate of $100 per credit. All other credits are paid for at the regular graduate credit rate for University of Hartford.
Students can obtain a special Connecticut State Teaching Certificate by completing some additional requirements. This certificate would allow the candidate to teach in any CT Public Montessori School and could be transferable to other state certificates. There are two categories for which people can get certified: Primary (#512) and Elementary (#511).  The requirements for the Teaching Endorsement #511 and #512 leading to the Connecticut State Certification are outlined here.
Students not enrolled at MTCNE but have acquired their AMI diploma from other training centers are eligible to apply to the University of Hartford Masters of Education with a Montessori Concentration program. An individual may begin the M.Ed program within 5 years of completing AMI training.  Alternatively, if training occurred more than 5 years ago, the applicant must provide documentation of active practice for at least one full school year in a Montessori setting. The active practice must have occurred within the last 10 years. Active practice includes full time: a) classroom teaching, b) classroom assistant, c) school administration, and/or d) other experience upon consideration. MTCNE completes the verification of a valid AMI Diploma and relevant employment.
For more information regarding the University of Hartford Masters of Education with a Montessori Concentration, contact Paige Bray at (860) 768-4553 or medmtcne@hartford.edu.
Program Information at University of Hartford's Website
University of Hartford requires an AMI diploma be translated by MTCNE to reflect graduate credits. Fill out the AMI Coursework Translation Form below.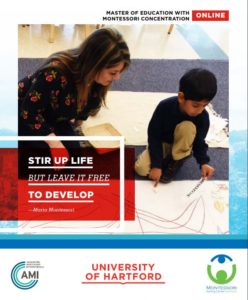 Click the brochure to see inside!
Information Sessions
Montessori Studies Online Information Sessions
5:30 p.m. – 6:30 p.m.
Click a Date to Register
April 9, 2019
May 14, 2019
June 11, 2019
July 9, 2019
August 13, 2019
September 10, 2019
October 8, 2019
November 12, 2019
December 10, 2019
Open House
Montessori Studies
Wednesday, April 24, 2019
4:00-5:30
Butterworth Hall
1265 Asylum Ave
Hartford, CT 06105
AMI Translation Program Fees
AMI Course Enrollment: $100 to MTCNE (if applying while Verification in an AMI course) ($100 later applied to AMI course translation)
AMI Course-by-Course: $350 to MTCNE (upon receipt of Translation AMI diploma)
AMI Coursework Translation Form
AMI Diploma translation will be sent to the student and university upon completion of translation. For any additional questions, contact the University of Hartford.